After spending most of last week sitting in a cold computer lab reinstalling all computers we where exhausted. Having done the same installation time and time again using a very hacky .bat script had also made us question what we where doing here and perhaps our very existence.
Fortunately for us we had the weekend planned with lots of fun! The friday night was spent with our awesome friend Foreversun who showed us some of the nightlife in Windhoek. We started of in the outmost parts of town at a place called carwash, simply because it served as a carwash during the day. There people had gathered to drink beers and hang out under a small roof. This wasn't like anything you can find at home an we wouldn't have found it here if it wasn't for Foreversun.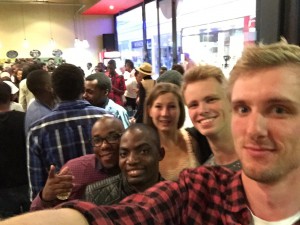 Next we went to a place inside a mall, which probably served as a restaurant during the day, but now it was selling alcohol and playing cool music with corresponding videos. The feeling here was also kind of special and it felt like everyone was just in between sitting down and standing up dancing. The final place we went to was called "Warehouse theatre" which was more like a nightclub back home.
On Saturday we drove to a city by the ocean called Swakopmund. It a was a rather peculiar town with wide roads and small houses. The reason we went there was because we had heard of this cool sport called sandboarding, which is like snowboarding but on sand dunes in the desert. Since the sandboarding was early in the moring on sunday and the trip to Swakopmund was about four hours we decided to stay over at an airbnb. Our hosts had a really nice house in the newly developed parts of the city, where there was almost more roads than houses. The sandbording crew picked us up and drove us to the middle of the desert where there was a really large dune that was perfect for sandboarding. The sandboarding itself was really fun and also provided a great workout since we had to walk up the dune after each run.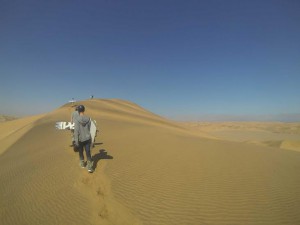 Today we where finally able to go to some schools! The day started out as usual with waiting, but today we knew that we wouldn't wait forever since most computer where done. Soon some additional paperwork where signed and we where finally out of the computer lab. We packed the car and drove quickly out to three schools and dropped some of the computers of, as they where about to close for the day. Finally we had started doing what we actually came here for, which was a great feeling. Tomorrow we have a lot more schools to go to, wish us luck!