Hello everyone!
Let us introduce ourselves, the new members of CESA, who will execute the project of 2015: Joel, Patricia and Oskar! We are very excited.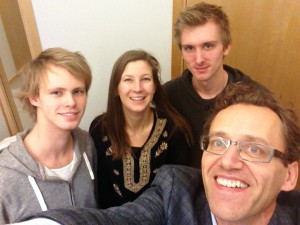 Joel, Patricia, Oskar and Samuel at our first meeting.
The first few weeks have mostly been about meeting everyone and planning the coming work. The Annual Meeting was held 7th of November where we gained insight, advice and interesting anecdotes from members of the past. Thank you.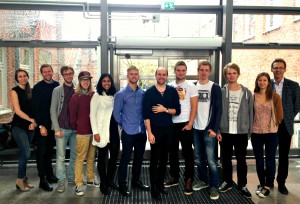 Sandra, Markus, Jens, John, Jennifer, Tobias, Marcus, Anton, Oskar, Joel, me and Samuel. Members from 2008 to 2015. Click the picture for better resolution.
We plan to follow the advice we received concerning improvements. The first of these is, as you can see, that the blog from now on will be written in English! This is because we are working internationally and want to include as many as possible.
We  also had a Start-up Meeting with Samuel Bengmark, Head and Founder of the project, to make decisions, get access to everything we need, and really get started!
Now, in the beginning of the project, our tasks are more of administrative sort. We are connecting with sponsors of past years and also interested in new ones, to make the project financially possible. Today Joel and Oskar cleaned the garage, which will be our workplace the following months. That is where we will make the computers ready to be shipped.
See you soon.
//Patricia Paulsson, Oskar Nyberg and Joel Torstensson