It's been some days since our last blogpost, but don't worry, we're still alive. Unfortunatily we haven't received the computers yet. We've been waiting each day for the Ministry of Education to call and either say we'll get the computers or invite us to a meeting, but neither have happened yet.
Since we haven't had much to do, we joined Star for Life, their coaches, lifeskill teachers and counselors for a workshop. We participated from Thursday afternoon to Friday afternoon which was very interesting and inspiring. At the game lodge where this workshop took place there was a lake, which we thought would look amazing in the sunrise. We were right! It was beautiful.

During Saturday we drove to and discovered both the more central parts of Windhoek and the outskirts. The central parts had a nice shopping center, but we had a hard time finding interesting restaurants. The outskirts were very different, there were a lot of people, carwashes and hairdressers.
Today (Sunday) started off with a peaceful morning and then we drove north of Windhoek for a game drive at Okapuka ranch. We had some trouble getting there since the GPS wanted us to drive 20km on gravel roads when only about 2km was required. When we arrived we started out with their lunch buffet. The area was amazing! Then we left for a 1,5h game drive. The lanscape was fascinating and we got to see giraffes, crocodile, white rhinos and different kinds of Antilopes.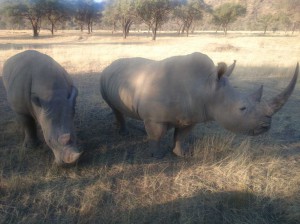 Tomorrow we'll go to the Star for Life office and hopefully get some good news.