Our first day in Hluhluwe in KwaZulu-Natal began at the Star For Life office, where amazing people warmly welcomed us. We diligently checked all the computers we had shipped to ensure they were still intact. For this trip, we had 45 computers, but we could only ship 32 of them due to the unavailability of battery specifications for the remaining ones. However, we are confident that the next CESA trip will manage to resolve this.
Afterward, we received a plan outlining the schools we would visit the following day, and then we made our way to our accommodation at Bonamanzi Game Park, which was only a 20-minute drive from Star For Life's headquarters. Over our two-week stay in Hluhluwe, we resided in Bonamanzi's tree houses. Initially, it felt somewhat unusual, but as we reflect on it now, it stands out as one of the most enjoyable experiences we've ever had.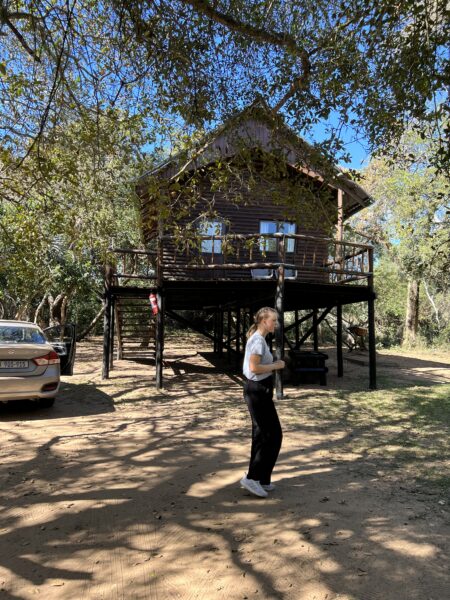 Each school we visited was unique, facing different circumstances and challenges, and had varying expectations. The selection of schools to visit was based on their level of motivation and eagerness to learn. Our days commenced with a delectable breakfast at Bonamanzi Game Park, where the waitress was always eager to serve us. She never hesitated to provide us with extra hash-browns, responding with a charming Zulu accent, "Pleasureeee…"
After breakfast, we drove to Star For Life's headquarters and met our contact person, Phakamani. He provided us with information about the schools we would visit that day, offering a brief description of each school's situation and needs. Typically, we visited two schools, and often they were an hour's drive away. In the rural areas, the roads could be quite bumpy, and Phakamani humorously referred to it as the "African massage." Nowadays, we still reminisce about those roads, the African massage, and the laughter we shared during the drives.
Upon reaching the schools after the long drives that Marcus skillfully navigated, we were greeted with smiles and open-hearted people. Our first order of business was to meet with the principals and inquire about their needs and how their students had benefited from the computers. Additionally, we inspected each school's computer lab to assess its condition. Some labs were in excellent shape, with computers still functioning that they had received from us (CESA) years ago. Other schools required software updates, and some had broken computers that we either repaired on-site or brought back to Star For Life headquarters for fixing. We also made sure that the schools had secure storage rooms for the computers, as many had unfortunately experienced break-ins in recent years. We could see the significant impact our donated computers had on the students.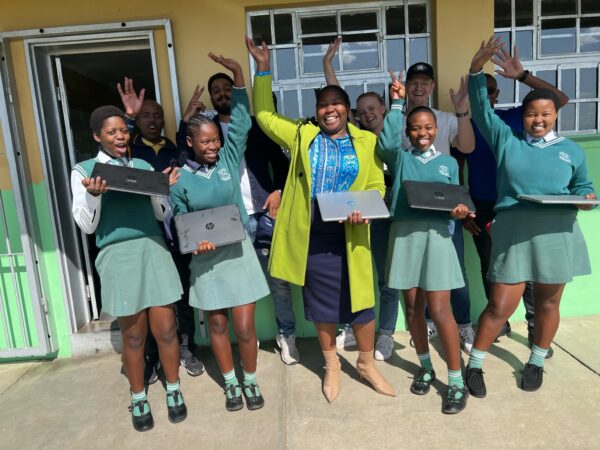 Not all schools had Wi-Fi or generators, and due to the problem of electricity blackouts, all our computers were prepared with software suitable for offline use. We noticed that the computer education level varied significantly from school to school. Some schools had a Computer Application Technologies (CAT) program, and students were learning to code in HTML, while others had students who had never seen a computer before. At Nmpondo Primary School, which is Sigma's school, we even had the opportunity to conduct a computer class. The students were curious and excited, eager to learn more and showcase what they had learned about computers so far. We distributed the computers based on the motivation of the schools and their specific needs. The students were overjoyed to receive the computers and couldn't wait to start using them.
This has been the best experience of our lives, and the impact of this project has been immense for the children. We are overwhelmed, and the feeling can't be described; it has to be experienced.