Hello everyone, CESA 2023 here and we have a fantastic trip to tell you all about!
We decided to take the opportunity to travel around in South Africa when we were going here anyway for the project and let me tell you, it was well worth it. I think all of us can say that is one of the most beautiful countries we have ever visited, everything from the landscape, the people and all the activities on the way has been amazing. 
Since Hluhluwe, the base of Star for Life and the CESA project, is quite north on the east coast we decided to do a road trip from Cape Town all the way up to Hluhluwe. This has been a common theme over the years, but we can safely say that we understand why thats been the case. Its a long drive with a distance of about 2000km, but it is beautiful and consists of all different type of landscapes, and its not that bad if you split the drive over a couple of weeks.
So, lets start from the beginning, from Cape Town. We landed after lunch, and spent out first day exploring Waterfront and the area between our accommodation and the city. We lived in an apartment in a hotel/aparment facility called Lagoon Beach, which was located roughly a 10-15 minutes drive from the city center. We decided to stay in Cape Town for 5 days, so the following days was spent doing all things that Cape Town offers. We did a round tour by bus, visited Cape Point, Cape of good hope, Boulders bay, climbed the Lions head and took the lift up to Table Mountain and explored the vineyards in Stellenbosch. It all was a wonderful time and we would easily do it again if we had the possibility.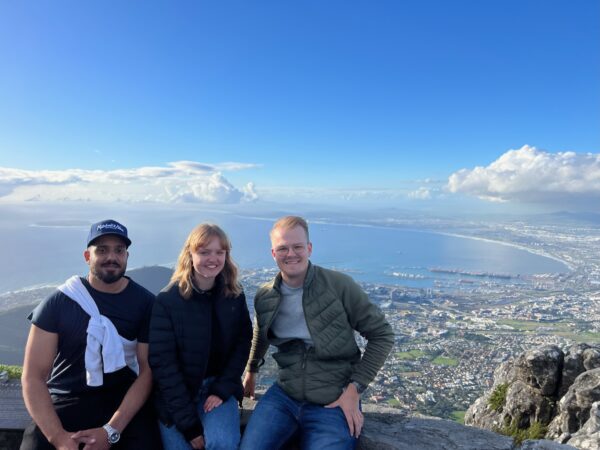 When the time in Cape Town was over we took our rental car and drove to Plettenberg Bay, although before we arrived in Plettenberg Bay we had a detour to Gansbaai for some shark cage diving. This would have been an amazing experience, if we actually got to see some sharks from the cage… We sat at sea for 3-4h without seeing a single shark, then all of a sudden one appeared, it roamed around for some time so we decided to jump into the cage, and then it never appeared again, sadly.
After the unsuccessful trip at seas we continued to Plettenberg Bay, where we spent the night. It was a very cozy little town, but since we only stayed one night we did not have the possabillity to explore it that much. The following day we went to an Elephant Sactuary where we held "hand" with the elephants, got to feed them and we learned a lot about the biggest animal of the savanna. After the cozy encounter with the Elephants we continued towards Port Elizabeth with a short stop at Bloukrans Bridge, where a joke regarding bungee jumping turned in to reality (at least for one of us). The worlds highest bungee jump from a bridge was located there, and Zoe decided to take the leap and jump, while the rest of us stood on the sidelines watching, more nervous than the adrenaline junkie herself! After that intense activity, we continued to Port Elizabeth where we decided to stay for two nights.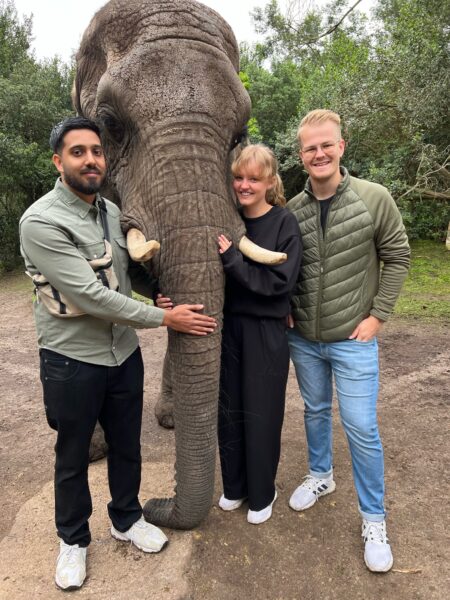 After arriving in Port Elizabeth, we went on our first safari at Kragga Kamma Game Park, where we saw various animals up close. However, some animals, like lions and hippos, were very far away and hard to see. The next day we had a drive up to east london and no other plans. We decided that we were ready to leave port elizabeth so we drove in the morning. After arriving in East London we realized there was nothing to do there so we took a chill day to prepare for the long 10 hour drive to Durban.
The day after arriving in Durban we took a guided tour to three different places, including another game drive in a larger park. We also visited an elephant and lion sanctuary, which didn't feel like one. This was our fault due to lack of research on our part. Although seeing the lions up close was cool. Later, we explored a reptile park with a Zulu theater and dance performance. Thankfully we had our guide who could translate the speech for us. Afterwards, we walked through the reptile park and got to see all the wonderful animals. The next day we needed to get to Hluhluwe where the next chapter of this trip was waiting for us. 
2 weeks gone and 2 weeks to go!